Recycling Preparative HPLC

Recycling Preparative HPLC


What is Recycling Preparative HPLC

What is Recycling Preparative HPLC


Recycling preparative HPLC is a separation technique that provides a fast and elegant approach to purify mg to gram quantities of starting materials, intermediates and final products. The basic concept is to direct samples post column back to the beginning of the column forming in a closed loop system. With each cycle, the effective column length and resolution increase accordingly. No additional solvents are used during recycling. When the baseline resolution is achieved, samples are collected.
Recycling separation function
Is installed into all of our models.
Available wide selection
JAI serves wide selection of products from compact manual model, fully automated model, larger scale and process scale model to meet your needs and target quantity of collection.
In addition to JAI standard recycling separation module, new gradient module has been added to expand the application range in separation and purification of compounds with wide polarity range.
Easy usability with small footprint
The main bodies are compact for space saving but enough to hold pump and detectors inside. With concepts of preparative dedicated devise, usability has been improved a lot from previous models.
Extensive column line up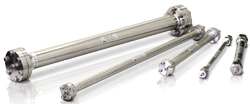 JAI offers extensive column line up with various phases and separation modes. Our most popular columns are JAIGEL-H, JAIGEL-HH and JAIGEL-HR series. They are GPC columns and designed specifically to work well with our recycling preparative HPLC systems. There is no need for tedious trial runs to find complicated separation condition and method.