Prepure-100/200/300
Prepure-250
Chromatogram data acuisition system "Prepure"
PC control NEXT series* for stress free operation
*Except manual moel LC-9210/9225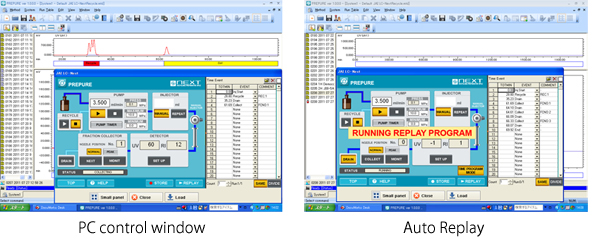 Able to remotely operate NEXT series from your PC
Displays the same on your PC as the touch panel screen on LC-NEXT. Operate NEXT away from the draft.

Various fraction program
Available to collect in Time mode, Peak mode and Slice mode.

Event viewer
Able to check at once the operation sequence from injection to collection as well as recycle period and collected peak area.
Able to restore operational sequences and events
Edit the log, rewrite and rerun are aiso possible.

Auto pump stop function
For safe operation, clean up after running or overnight operation.

Quantitative, Peak area Calculation
GPO Calculation is available for Prepure-300.
Specifications


Purepure-100
Purepure-200

Purepure-300

Purepure-250

Number of Channel
2
PC Interface
USB2.0
Driver
LC-9110NEXT/9130NEXT
Exclusive
LC-200/500
NEXT Exclusive
Event Signal
-
Marker (injection, recycle, and fraction)
PC Spec.
WindowsXP or later, OS 32bit USB port×2
Data Transfer
to MS Excel
Chromatogram Acquisition
○
○
○
○
PC Control
-
○
○
○
GPC Calculation
-
-
○
-
JDS-50/100/200/300
Chromatogram data acquisition system
With easy operation, it offers the same usability as recorder
Extended functions enable useful data acquisition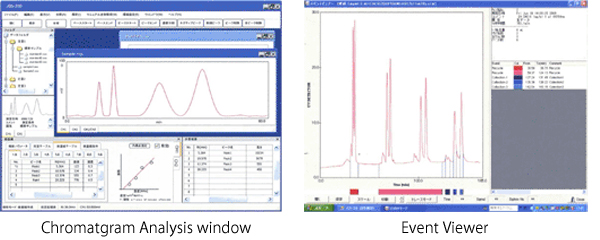 Multi event signal receiver
Receives all event signals from our recycling preparative HPLC (injection, recycle, siphon, collect).

Scalable chromatogram View
Makes for easy operation to find the exact timings of collecting samples.

Write-operation
Enables to leave comments on chromatogram even during data acquisition.
MUITI event viewer
On chromatogram, it makes easy to recognize all operated events procedure such as started recycling peak, ended collecting peak.

Chromatogram viewer
With a signal glance, it is enough to recognize even a long period chromatogram.
Specifications


JDS-50
JDS-100

JDS-200

JDS-300

Number of Channel
1
2
PC Interface
USB2.0 (USB1.0 compatible)
Driver
Exclusive driver
Power Input
2.5V
Event Signal
Marker
(injection, siphon, recycle, collect and random)
Sampling Speed
10Hz Max.
Data Acquisition
injection valve or manual start
PC Spec.
WindowsXP or later, OS 32bit USBport ×1
Data Transfer
to MS Excel
Chromatogram signal reading
○
○
○
○
Event signal display / log
○
○
○
○
Quantitative calculation
-
-
○
○
Peak area calculation
-
-
○
○
GPC calculation
-
-
-
○