The JFC series of cryogenic sample crushers consist of a cell, a tungsten carbide steel ball. The sample and the steel ball are placed inside the cell which is attached to a crush rod and the rod is attached to the main unit. The cell is immersed in liquid nitrogen to cool the sample and the steel ball. Then the crush rod is set in motion by reciprocating up and down and causes the steel ball inside the cell to pound the sample into a fine powder.
Feature
♦All polymers, i.e. plastic and rubber, can be crushed after cooling in liquid nitrogen.
♦Ideally suited for analysis of polymer additive, for analysis of outgas from polymers and for pretreating samples, i.e. wood chips, natural products or biological samples.
♦The cell can be of stainless steel (standard) or titanium.
♦High resolution NMR spectrum can be obtained after pulverization.
♦When vulcanized rubber is crushed with KBr, IR measurement can easily be made from the KBr disk.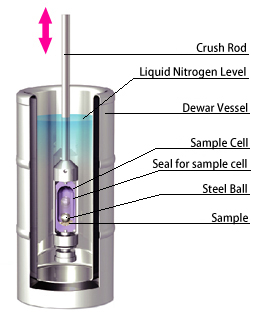 Internal Structure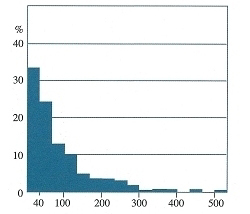 Particle Size Distribution
Particle Size Distribution of the polyacetal resin obtained with the cryogenic crusher(Pre-coolong for 10 minutes and crushing process continued for 10 minutes.)




Image of Crushed Sample