FOC-06
(JPI-06A Optional system)
Outgas collector
Place a sample in 50ml or 100ml glass chamber and heat. Evolved outgas are to be trapped and collected in the mini-PAT.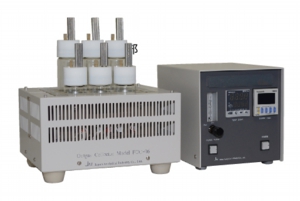 Number of sample
Able to collect VOC from maximum of 6 samples.


Sample chamber
Always place a sample in clean vial(consumable) to save time from cleaning process.


Thermal extraction temperature
From ambient to maximum of 250℃


Break-Through prebented
If the sample contains break-through easy compounds, mini-PAT is able to connect two pieces in series to improve collection.


Other sample tubes
In addition to mini-PAT, costomized joint connections are available to fit other sample tubes.


Devise unit / Probe
Number of Samples
6 samples at time
Heating method
Curie point heating

Pre-Heating
150℃

Transfer line (Needle upper part)

300℃ at curie point heated
Sample Tube

Quartz glass, OD 6mm, Length 36mm

Needle

OD 0.47mm, Length 42mm

Dimension(mm)

191(W)x294(H)x293(D)
Weight

7kg