UVHM-4000
For UV Curing Resin (Outgas while hardening)
UVHM-4000 is an outgas collector to trap outgas from ultraviolet curable samples under UV irradiation. UVHM-4000 has a conventional chamber for general outgas sampling as an option.



Practical Sampling method
Trap and collect outgas whilst UV curing is UV irradiated.



Collect outgas from the same sample after UV cured too.
Leave the UV cured sample in the chamber and heat it to collect outgas.



Large chambers for effective collection
・UV curing chamber:φ16×100mm
・Outgas chamber:60(W)×20(W)×200(D)mm

Other brand sample tubes for thermal desorption are also adaptable as an option.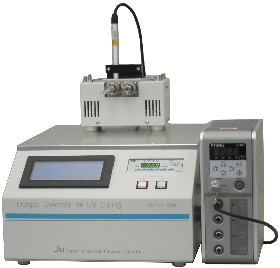 Dual purpose outgas collector
In addition to UV curing sampling oven, UVHM-4000 comes with conventional outgas collector oven as standard equipment. 1 controller unit operates 2 overs.



For outgas collector oven, the maximum temp. is up to 400℃.


Specification
UV curing sampling oven
♦ Number of Sample chamber: 2
♦ Sample chamber material: Quartz glass
♦ Oven heater: Resistance heating
♦ Sample chamber capacity: φ16 x 100 mm (20mL)
♦ Power supply: From controller unit
♦ Weight:2.5kg

Outgas collector oven
♦ Number of Sample chamber: 2
♦ Sample chamber material: Quartz glass
♦ Oven heater: Resistance heating
♦ Oven temp.: up to 400°C
♦ Sample chamber capacity: 60(W) x 20(H) x 200(D) mm (220mL)
♦ Power supply: From controller unit
♦ Weight:8kg

Controller unit
♦ Flow controller : Digital Mass Flow Controller
♦ Purge gas flow rate : Maximum 2.00 L/min
♦ Purge gas: N or He for general use
♦ Temperature controller : Digital controller
♦ Dimensions/weight: 300 W X 178 H X 530 D (mm) /13kg
♦ Power supply: AC 100 V, 50/60Hz 800VA