TDV-04
Outgas Collector for DVD
Outline
TDV-04 series is an outgas collector from DVD disk samples with elevated temperature.

Feature
- Consists of 4 sample chamber ovens which enable to collect 4 or more outgas samples at a time.
- Each chamber accommodates 1 DVD disk or more than 1 using spacer.
- 4 independently controllable purge gas lines enable reliable sampling for each oven.
- Heating (sampling) temp. for each ovens are from room temperature to 200°C
- Sample chambers are gold plated (deactivation treatment) preventing from contamination.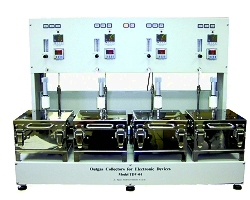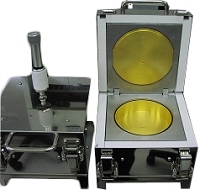 Specification
♦Number of Sample chamber: 4
♦Sample chamber material: Stainless steel and gold plated inside
♦Sample vessel capacity: φ130×34mm (451mL)
♦Oven material: Aluminum
♦Oven heater: Residence heating
♦Oven temp.: up to 200°C
♦ Purge gas: N or He for general use
♦ Purge gas flow rate: 20 to 200 ml/min
♦ Cooling unit: Tap water or cooling water circulation
♦Dimensions/weight: 960(W) x 730(H) x 500(D) (mm) /100 Kg
♦Power supply: AC 100 to 115 V, 15 A