O-HDD
For Operating HDD
Outline
O-HDD is an outgas collector from running Hard Disk Drive (To collect outgas from HDD while it is operating at the moment) on the hotplate with elevated temperature.

Feature
•Able to collect VOC from a 3.5" HDD into PAT while the HDD is on and operating.
•Ultimately, the PAT is placed in Curie Point Purge and Trap Sampler to be thermally desorbed into GC/MS.
•The hotplate temperature is up to 150°C.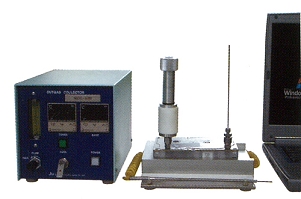 Specification
♦HDD: All commercial Hard Disk Drive
♦Hot plate: Electronically heated from room temp. to 150°C
♦ Purge gas: N or He for general use
♦Hot plate dimensions: 3.5 inch HDD can be placed
♦Controller dimensions:168 W X 145 H X 205 D (mm)