HM-10
For Electrical parts (10 samples)
Outline
HM-10 Outgas Collector has 10 sample chambers to collect 10 outgas samples independently at a time. The oven temperature is selectable from room temperature up to 200°C.

Feature
- Consists of 4 ovens enable to collect multiple outgas at a time and each oven has individual temp. controller.2 ovens for 4 small size sample chambers (75mL).2 ovens for 1 big sample chamber (471mL).
- 10 independently controllable purge gas lines enable 10 reliable sampling
- Heating (sampling) temp. for each ovens are from room temperature to 200°C (up to 260°C for baking purpose)
- Able to collect for long time by timer setup 99hour 59mins.
- Sample chambers are gold plated (deactivation treatment) preventing from contamination.
- Built-in water-cooling valve system

Other brand sample tubes for thermal desorption are also adaptable as an option.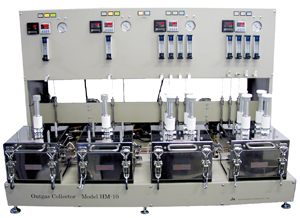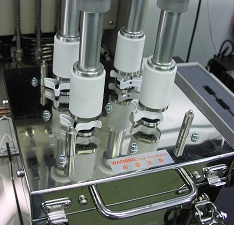 Specification

Number of Sample chamber
10

Sample chamber material
Stainless steel and gold plated inside

Sample chamber capacity
φ40 x 60 mm, 8 chambers (75 mL)
φ100 x 600 mm, 2 chambers (471 mL)
Oven material
Aluminum

Oven Heater
Residence heating
Oven temp
up to 200°C
Purge gas
N or He for general use
Purge gas flow rate
20 to 200 ml/min
Cooling unit
Tap water or cooling water circulation
Dimensions/weight
950 W X 620 H X 400 D (mm)/120 Kg
Power supply
AC 200 V, 15 A