HM-06
For Electrical parts (6 samples)
Outline
HM-06 Outgas Collector has six sample chambers to collect six outgas samples at a time. The oven temperature is selectable from room temperature up to 200°C (260°C when baking).

Feature
- Consists of 6 sample chambers which enable to collect 6 outgas samples at a time.
- Two different sizes chambers are available, depends on your sample sizes.

 <Chamber Size>
  Large:φ60×114mm (Inner volume 320ml)
  Small:φ60× 57mm (Inner volume 160ml)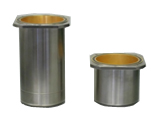 Larrge size  Small size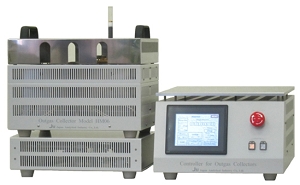 Chamber image on oven.




- Able to customize the number of chambers, the chamber size, and to connect with other brand absorbance sample tube, etc.

- Outgas from the parts are trapped and collected in adsorbent into 6 PATs.

- Sample chambers are gold plated (deactivation treatment) preventing from contamination.
Other brand sample tubes for thermal desorption are also adaptable as an option.

Consists of
●Oven unit ●Chamber x 6pcs ●Controller unit ●Gas devider unit ●Chamber ●cooling unit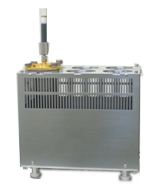 Chamber air-cooling unit (Standard Accessory)


Specification
Number of Sample chamber
6
Sample chamber material
Stainless steel and gold plated inside

Sample chamber capacity
Large:φ60 x 114mm (Inner volume 320ml)
Small:φ60 x 57mm (Inner volume 160ml)
Oven Heater
Residence heating
Oven temp
Room temp. up to 200°C (260°C when baking).
Flow rate controller
Massflow controller
Purge gas
N or He for general use
Purge gas flow rate
20 to 200 ml/min
Gas devider
6 Controllable Valve
Temp. controller
Digital variable controller
Operation
On touch panel screen
Chamber air-cooling unit
Up to 6 chambers at a time
Oven unit
290(W) x 150(H) x 370(D)mm, 21kg
Controller unit
350(W) x 220(H) x 500(D)mm, 16.5kg
Gas devider unit
370(W) x 90(H) x 300(D)mm, 5.5kg
Chamber air-cooling unit
260(W) x 240(H) x 190(D)mm, 4kg
Power supply
AC100V, 50/60Hz, 12A