HM-04II
For Electrical parts (4 samples)
Outline
HM-04II Outgas Collector has four sample chambers to collect four outgas samples at a time. The oven temperature is selectable from room temperature up to 200°C.

Feature
- Consists of 4 sample chambers which enable to collect 4 outgas samples at a time.
- 4 independently controllable purge gas lines enable 4 reliable samplings.
- Outgas from the parts are trapped and collected in adsorbent into 4 PATs.
- Able to collect for long time by timer setup 99hour 59mins.
- Sample chambers are gold plated (deactivation treatment) preventing from contamination.

Other brand sample tubes for thermal desorption are also adaptable as an option.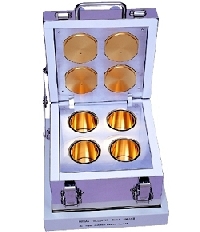 Device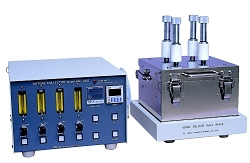 Controller   Device
Specification
| | |
| --- | --- |
| Number of Sample chamber | 4 |
| Sample chamber material | Stainless steel and gold plated inside |
| Sample chamber capacity | φ60 x 56 mm (160 mL) |
| Oven material | Aluminum |
| Oven Heater | Residence heating |
| Oven temp | up to 200°C |
| Purge gas | N or He for general use |
| Purge gas flow rate | 20 to 200 ml/min |
| Device dimensions/ weight | 285 W X 225 H X 310 D (mm)/ 21.5 Kg |
| Controller dimensions/ weight | 320 W X 215 H X 320 D (mm)/ 11 Kg |
| Power supply | AC 100 to 115 V, 10 A |
Example of analysis with the HM-04II