FD-4000
Outgas Collector for the Flat disk
Outline
FD series is an outgas collector from flat disk samples. FP-4000 is designed to collect surface outgas on the quartz oven with elevated temperature.

Feature
•Able to collect outgas from flat disk surface up to φ100mm sized on the oven plate at maximum temp. at 500°C. (Square shaped sample up to 70mm2)
•Able to collect outgas only from surface side, whilst outgas from backside is discharged completely by vacuum pump.
•User friendly operation.
• Chiller unit is the standard accessory for time saving of cool-down.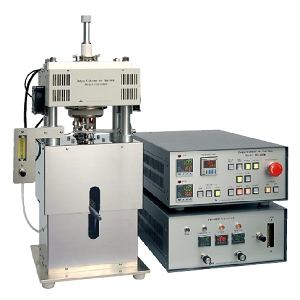 The oven plate to place flat panel samples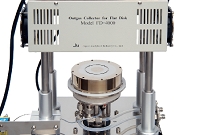 Specification
♦Sample size: smaller than φ100mm flat sample.
♦Oven material: Stainless (SUS316L)
♦Oven hood: deactivated treated plate
♦Oven heating: Resident heating method
♦Heating temp.: Max. 400°C
♦Cooling: Cooling water circulation (Chiller system is optional)
♦ Purge gas: N or He for general use, Flow rate up to 500 ml/min, o.5MPa
♦Safety system : Emergency stop, Leak detector, Overheat sensor stopper
♦Timer: Maximum 99hours 59mins
♦Weight: 35 Kg (Oven) 10kg (Controller)
♦Power supply:
AC 100V/20A