LC-9110G NEXT/9130G NEXT
Gradient & Recycle
New NEXT series with Gradient option
Recommended configuration example
LC-9110G NEXT + JAIGELODSColumn (ID20mm) + UV-Vis 4ch NEXT + RI700NEXT
LC-9130G NEXT + JAIGELODSColumn (ID30mm) + UV-Vis DAD NEXT + RI700+ ClarityTM
Addition of Gradient Module
Gradient function is now added to LC-91 NEXTseries with high reliability. Isocratic Recycle module is also supported as always.

Quaternary Low-Pressure Gradien
Installed Low-pressure gradient module offers a blend of 4diferent solvents. Combination of recycle after g radient mode separation expands the application range in separation and purification of compounds with wide polarity range.

Recycle with Non-diffusion (patent)
During extended recycling period,the recycled sample in the flow line may diffuse back into the solvent with the danger of contaminating the solvent reservoir. The NEXT series has non-diffusion device (patent) that prevents the sample from running back into the solvent line and damaging your sample,columns and detection with back pressure.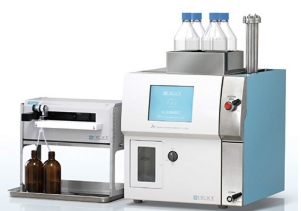 Large size LCD tough panel for easy operation
8.4 inch size touch panel screen enables easy and user-intuitive operation with the flow channel diagram on the screen. Gradient/ Isocratic mode switching is super easy by simply touching icons on the screen.

Other feature
Besides ther ecycle function is equipped,other various functions are equipped for your convenience,such as repeat injector,auto replay and fraction time auto adjusting.

Reliable solvent delivery peformance
Optimized serial double plungeOther featurer pump dedicated for recycling is installed. Addition of digital flow rate compensation function enables reliable solvent delivery performance. The exact flow rate as setting value is guaranteed,regardless of column pressure.

Auto cleanup function
Keeps the flow channels clean automatically. Solvent changeover when changing columns is also made much easily.
Two different types of detectors are both smal enough to fit into NEXT series body. They can be installed together and perform detection simultaneously. On Gradient mode,detection at UV cut off area or with RI detector is not possible.
UV Detector
As preparative dedicated detector, it has developed its stability and sensitivity can detect most organic compounds.



UV-254NEXT

UV-370NEXT

UV-600NEXT

UV-VIS 4ch NEXT
Detection

Fixed wavelength

Variable wavelength
Variable wavelength

4channel variable wavelenghth

Wave length

254nm

195~370nm

195~600nm

190~480nm


Measurement Method

Single beam
Double beam
Single beam

Flow Cell

Cell Length: 0.3mm, Cell volume: 40µl
(Option: 1.0mm, 2.4mm)

Cell Length: 0.5mm,
Cell volume: 20µl
(Option: 0.2mm, 0.1mm)
Cell Length: 0.3mm, Cell volume: 40µl
(Option: 1.0mm, 2.4mm)
RI Detector
Stable baseline can be obtained quickly. Applicable for both preparative and analytical HPLC.
| | |
| --- | --- |
| | RI-700NEXT |
| Measurement Method | Deflection |
| Flow Cell | 8µl volume |
| RI Range | 1.00-1.75 |
| Attenuator | 1-2000、∞ in 12 steps |
Chromatogram data acquisition system
There are a few selection of software depends on your need and detector selection. UV-Vis 4ch NEXT works perfectly with JAI Scan and UV-Vis DAD NEXT works with ClarityTM. For other detectors,please choose from Prepure or JDS series.




LC-9110G NEXT
LC-9130G NEXT
Pump Model
P-9101B
P-9104B
Pump Type
Reciprocating double plunger

Flow Rate

0.001 - 10.00ml /min
0.001 - 30.00ml /min
Maximum Discharge Pressure
30MPa(0.01 - 5.00ml /min)
25MPa(5.01 - 10.00ml /min)
20MPa(0.01 - 15.00ml /min)
15MPa(15.01 - 25.00ml/min)
10MPa(25.01 - 30.00ml/min)
Plunger
Φ4.0mm
Φ4.0mm
Stroke
8mm
Discharge rate per stroke
100µl
300µl
Flow Stability
CV less than 0.3
Operation Panel
8.4inch LCD touch-sensitive screen
ISO/GRA Mode Switching
Program and display on LCD touch-sensitive screen
Gradient Method
Low-pressure mixture method
Gradient solvent
4 solvents
Pressure Display & Limiter
Program and display on LCD touch-sensitive screen
Variable Injector (Manual)
Rheodyne 7725i
Sample Loop
3ml (standard)
5ml, 10ml (optional)
10ml (standard)
5ml, 15ml (optional)
Event Marker
Injection, Recycle and Collect
Recycle System *
With non-Diffusion function Recycling system (patent)
Recycle Method *
Swiching Scheme of Solenoid Valve
Auto Recycler *
Built-in (1 to 99 times repetition possible)
Repeat Injector *
Direct auto sample loading system (100µl to 99.9ml)
Manual Recycle
Program and display on LCD
Fraction Collector
Standard accessary. Max 33 fraction (Manual /Time mode)
Auto Rerun Function
Save previous operation and rerun up to 99 times.
Injection Overlap Function
Time saving auto injector
Auto Cleanup Function
Flow Channel washing by program
Dimensions of Mainframe (mm)
464(W)x492x(H)x504(D)
Tray dimension for fraction collector
440(W)x325(D)
Solvent rack demension for Φ40mm column(s)
240(W)x650x(H)x470(D)
Power Supply
85V - 240V Power consumption 800VA
Weight
Approx. 40kg