Our gratitude to our customers and partners in their support of the company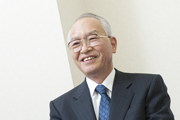 celebrating its 50th anniversary.

Japan Analytical Industry will celebrate its 50th anniversary in this September. We would like to express our sincerest gratitude for the support of our customers and partners who have made this millstone possible.

Since the day of establishment, our mission has always been to develop analytical instruments that are unlike any other in the world and contribute to science and technology. We plan to continue to devote our efforts into creating unique analytical equipment and keep challenging ourselves to meet the needs of the times.

We sincerely look forward to our 100th anniversary.

February 2015
President / Naoki Oguri Ph.D